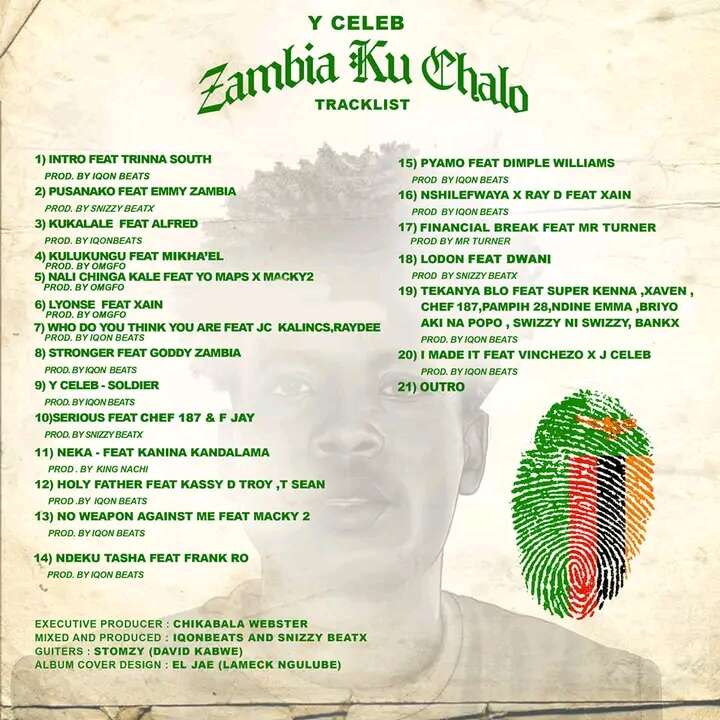 Download Y Celeb – Zambia Ku Chalo Album (ZIP) MP3
Zambian celebrated musical artist from the Copperbelt Y Celeb sometimes called Super Mulolo has finally released his much-anticipated studio album of the year 2023 titled Zambia Ku Chalo a phrase that has grown popular in the country emphasizing selling Zambian music, culture, and everything Zambian to the world. The 21 songs album by Y Celeb features a range of artists from rising artists like Xain an artist who has been making rounds in Zambian Music all the way to established artists like Yo Maps who is currently the most streamed, downloaded, and watched artist in the country. Zambia Ku Chalo album features the following artists; Trina South, Emmy Zambia, MIKHA'EL, Macky 2, JC KALINKS, RAY DEE, Goddy Zambia, F Jay, Kanina Kandalama, T Sean, Frank Ro, Xaven, Dimple Williams, Super Kena, Mr Tuner, BRIYOL, Dwani, Chef 187, Ndine Emma, Vinchenzo, and J Celeb.

All in all, listen to Zambia Ku Chalo Full Album Zip by Y Celeb. Download it below and more Audio, MP3, and videos, Not only Y Celeb`s songs but also the latest Zambian Music 2023, Amapiano, Naija songs, Tanzanian songs, Malawi songs, South African songs, Rhumba, Reggae, and much more right here on Westside Music Blog. Use the search bar you will find on the top right corner of this blog to search for any song you would like to download. After that, If you can not find a particular song you can always request it via email or Facebook page.
Download and Share!
Above all, below is a list of other popular songs that you might be interested in checking out. You can download the song of your choice by following the link attached to each song that we have listed below.
| | | | | |
| --- | --- | --- | --- | --- |
| 1 | | Y Celeb – Intro ft. Trina South | | DOWNLOAD |
| 2 | | Y CELEB – PUSANAKO ft. Emmy Zambia | | DOWNLOAD |
| 3 | | Y CELEB – KU KALALE ft. ALFRED | | DOWNLOAD |
| 4 | | Y CELEB – KU LUKUNGU ft. MIKHA'EL | | DOWNLOAD |
| 5 | | Y CELEB – KALE ft. Yo Maps & Macky 2 | | DOWNLOAD |
| 6 | | Y CELEB – LYONSE ft. XAIN | | DOWNLOAD |
| 7 | | Y CELEB – WHO DO YOU THINK YOU ARE ft. JC KALINKS & RAY DEE | | DOWNLOAD |
| 8 | | Y CELEB – STRONGER ft. GODDY ZAMBIA | | DOWNLOAD |
| 9 | | Y CELEB – SOLDIER | | DOWNLOAD |
| 10 | | Y CELEB – SERIOUS ft. Chef 187 & F JAY | | DOWNLOAD |
| 11 | | Y CELEB – NEKA ft. KANINA KANDALAMA | | DOWNLOAD |
| 12 | | Y CELEB – HOLLY FATHER ft. T SEAN & Trina South | | DOWNLOAD |
| 13 | | Y CELEB – NO WEAPON ft. Macky 2 & SUPER KENA | | DOWNLOAD |
| 14 | | Y CELEB – NDEKU TASHA ft. Frank Ro | | DOWNLOAD |
| 15 | | Y CELEB – PYAMO ft. DIMPLE WILLIAMS | | DOWNLOAD |
| 16 | | Y CELEB – NSHILEFWAYA ft. XAIN & RAY DEE | | DOWNLOAD |
| 17 | | Y CELEB – FINANCIAL BREAK ft. MR TURNER | | DOWNLOAD |
| 18 | | Y CELEB – LONDON ft. DWANI | | DOWNLOAD |
| 19 | | Y CELEB – TEKANYA BRO ft. SUPER KENA, XAVEN, Chef 187, NDINE EMMA & BRIYOL | | DOWNLOAD |
| 20 | | Y CELEB – I MADE IT ft. VINCHEZO & J CELEB | | DOWNLOAD |
| 21 | | Y CELEB – OUTRO | | DOWNLOAD |