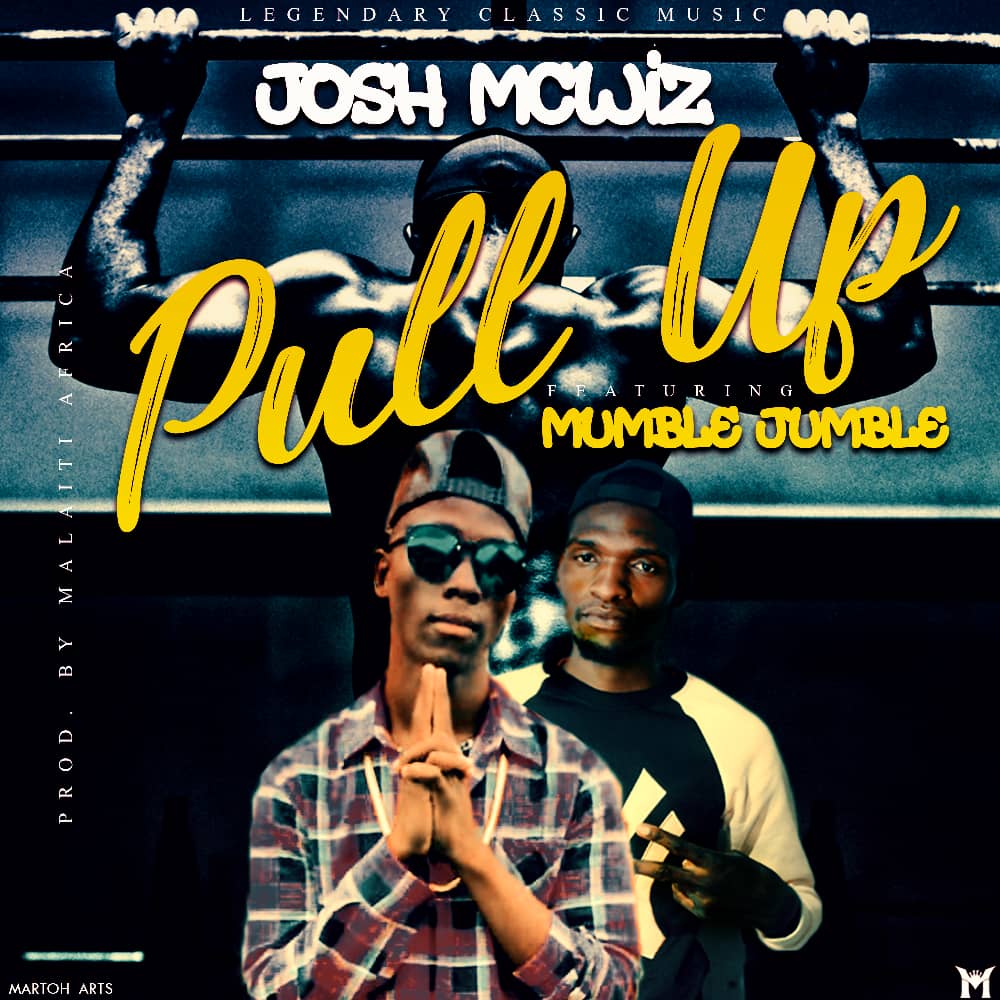 MG based promising artist – Josh McWiz pulls through a heavy collabo with Hip Hop heavyweight "Mumble Jumble" on a joint titled "Pull Up."

The motivational song features a two verses from Immac Headliner "Mumble Jumble" and "Josh McWiz" respectively, with a dope hook from Josh.
Stream & Download!
Lyrics
Intro
Yeah..
Josh..
Young legend..
Mumble Jumble..
Mulizake milangu..
Malaiti Africa..
Let's get in one more time..
Yesai..
Hook (by Malaiti Africa)
Swallow your pride..
Ukale Ku baza(work)..
Hustle ki hustle it doesn't matter..
Even when life, is getting so harder it's gonna be better…
Pull up your socks, luli kamata ubaze(work) ma nigger…
You can change your life, and make it better ma nigger…
Pull up ma nigger… Pull up ma nigger… Pull up ma nigger…X4
Verse 1 (by Mumble Jumble)
Pull up your stockings.
Hustle neba hainela ni pula you can't stop me.
Nako ya kuina nya, sipula anisitokwi.
Pliers okay ki libuka plus ball pen.
Mubata isiñi mwanyanda?
Inge muhuma mukene mwa masimu(Sim) Inge number.
You will never see me na under-pressure.
Bupilo ki kulwana Inge criminal mwa Ndwa.
Yeah, yetu tunayi tunayi.
Neba mwa night ai.
Job ki ninety nine (99).
Fa mic nai-kataza kupanga ma hit mwai.
Neba mwa mukwakwa, 'abaleya!'
Konji ni manyando aabaleha.
Fa lifasi lunani mazazi aabaleha.
So lubelekeni isike kubabalela.
#Milangu
Bridge
Hustle beleka wena… Hustle beleka wena aiiii…X4
Hook (by Malaiti Africa)
Swallow your pride..
Ukale Ku baza(work)..
Hustle ki hustle it doesn't matter..
Even when life, is getting so harder it's gonna be better…
Pull up your socks, luli kamata ubaze(work) ma nigger…
You can change your life, and make it better ma nigger…
Pull up ma nigger… Pull up ma nigger… Pull up ma nigger…X4
Verse 2 (by Josh McWiz)
Never give up, one day ika balancer.
Hustle ki hustle akuna kuzwafa.
Uzibe wahesu nitala ukashwa.
Swallow your pride and try.
Open your eyes.
Nigger rise up and shine.
Things will be fine.
Do something, never doubt on your self.
Just pull up your socks.
Double your hustle, ufumane source.
Baza (work) katata, upange ni cash.
Just do what you can and be your own boss bro.
Better kuba simple than-
Selling your soul to the devil.
Shedding the blood of people.
Never try that bro, beya fela muscle.
Stick to your hustle.
No matter the struggle.
God will fight your battle.
Answer your prayer and bless you double.
#King
Bridge
Hustle beleka wena… Hustle beleka wena aiiii…X3
Hook (by Malaiti Africa)
Swallow your pride..
Ukale Ku baza(work)..
Hustle ki hustle it doesn't matter..
Even when life, is getting so harder it's gonna be better…
Pull up your socks, luli kamata ubaze(work) ma nigger…
You can change your life, and make it better ma nigger…
Pull up ma nigger… Pull up ma nigger… Pull up ma nigger…X4
Outro 
Hustle beleka wena… Hustle beleka wena aiii…X3